Hire Flutter Developers in USA
---
Based in USA, we are a Flutter staff augmentation company with a solid reputation in the market and a strong commitment to excellence in software development.
Our specialization focuses on hiring talented Flutter developers with proven experience, ready to drive your software projects to success. We pride ourselves on providing high quality and reliable service, backed by a rigorous selection process that ensures only the best professionals join our teams.
If you are looking to strengthen your development team with Flutter experts, we are here to help you achieve your goals. Trust us to provide you with solid and professional solutions, let's build a successful future for your company together!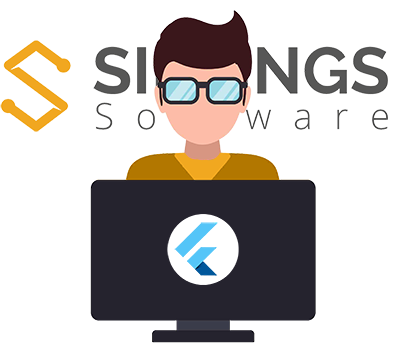 How to
Hire Flutter Developers through Siblings Software
Hiring a Flutter developer through Siblings Software is very simple and fast.
1
Tell us
about yourself
Share with us the details of your company and the objectives of your project. We are interested in knowing your goals and needs in order to find the perfect Flutter developer that aligns with your specific requirements.
2
Select your
Flutter developer
After a rigorous pre-selection by our team of experts, you will have the opportunity to choose the Flutter developer that best suits your expectations. Your satisfaction is our priority, so the final decision rests with you.
3
Integrate it into your project
Once you've selected your new Flutter developer, we'll provide you with a quick and smooth onboarding process. We'll make sure he or she is a perfect fit for your team and project so you can start seeing results efficiently - your success is our goal!.
We are an Flutter development outsourcing company specialising in staff augmentation services.
Siblings Software
Skilled Flutter Developers
We have the talented Flutter developer you need.
All the Flutter developers in our team have the following skills:
Knowledge of the Flutter framework.
Good understanding of Android (Java, C# or Kotlin) and iOS (Swift) application programming languages.
Knowledge and/or experience in Dart, the client-based programming language used in Flutter to write simple scripts.
Knowledge in SQLite, to store persistent data and load it whenever necessary.
If you decide to hire a Flutter developer, let us help you select the best one for your team.
Hire
Flutter Developers
in USA
Flutter Staff Augmentation Services
Hire the best Flutter developers for your project.
We are a staff augmentation firm dedicated to providing talented Flutter developers to drive your project forward. Our team is composed of highly qualified Flutter experts who are proficient in the latest technologies and tools related to this platform. We not only evaluate technical skills, but also consider communication and teamwork aspects to ensure a seamless integration into your development environment. By collaborating with us, you will enjoy the flexibility to choose from a variety of talented professionals and benefit from a fast and efficient implementation of your project, helping you achieve your goals with ease and confidence.
Flutter


App Developers
Flutter


Web App Developers
Flutter


API Developers
Choose us as your
Flutter Staff Augmentation Company
in USA
USA Flutter Staff Augmentation Company
We are an USA-based company specialized in Flutter software development and we offer staff augmentation services to strengthen your development team. We are proud of our solid track record in the industry, backed by years of experience in creating successful applications. We work tirelessly to establish long-term relationships with our clients, prioritizing trust and satisfaction on every project. Our team of highly qualified Flutter developers goes through a rigorous selection process that guarantees their experience and competence in this technology. We offer you the advantage of having exceptional professionals who can integrate seamlessly into your team and contribute to the continued success of your projects. By choosing us as your Flutter development partner, you gain a competitive advantage in the marketplace and the confidence that your projects will be carried out with the highest quality and efficiency.
Click on the following link if you are looking to hire a Flutter developer in Argentina or Latin America.
Frequently Asked Questions
A Flutter developer is a highly trained professional in the mobile application development technology called Flutter, created by Google. These developers specialize in creating cross-platform apps that work seamlessly on iOS, Android and other platforms using a single code base. They are experts in the Dart programming language and are experienced in building attractive and highly functional user interfaces. Their versatility and skills make them a valuable resource for mobile app development projects.
To find and hire a qualified Flutter developer, it is essential to start by identifying the specific needs of your project and the skills required. Then, you can search on hiring platforms for technology professionals or turn to companies specialized in staff augmentation. Be sure to carefully review the candidates' portfolios and references to assess their previous experience in similar projects. It is also advisable to conduct technical interviews to assess their Flutter skills and their ability to work in a team. Collaborating with an experienced staff augmentation company can simplify this process and ensure that you hire a highly qualified developer.
If you need to expand your staff by hiring a Flutter developer, we can help you. Please contact us.
The cost of hiring a developer at Flutter varies according to multiple factors, such as the professional's experience, geographic location and the specific requirements of the project. The price is adapted to the particular needs and characteristics of each task, which makes the hiring process flexible and customized for each particular project.
Tell us the objectives, needs and budget of your project and we will help you find the best talent for you.