Hire Django Development Teams In USA
---
We are a Django software development company based in USA that provides recruitment services for specialized Django development teams.
Our experience and dedication allow us to connect companies with talented Django developers who will transform concepts into high-performance web applications. Our commitment lies in delivering effective, custom development solutions that are tailored to the unique needs of each project.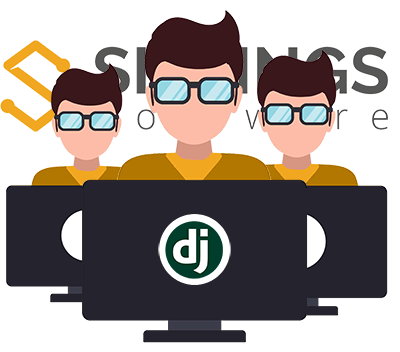 How to
Hire a Dedicated Django Developer Team
Hiring a team of Django software developers through Siblings Software is quick and easy.
1
Tell us about yourself
Share with us the details of your company, your goals, your current team structure and your specific project requirements so we can align our solution with your vision.
2
Select your team
Our experts will conduct a thorough screening of developer profiles in just days. After interviewing them, you'll make the final decision to bring in the talent that best fits both your project and your company's culture.
3
Get To Work
Enjoy the seamless integration of your new team of Django developers, ready to work efficiently from day one, allowing you to move forward with your project unhindered.
Do you want to hire a dedicated team of Django developers? Siblings Software is at your service.
Benefits of
Hiring A Dedicated Team Of Django Developers
Cost Efficiency
By hiring a team of Django developers through a dedicated team sourcing company, you can significantly reduce fixed costs by only paying for resources used, allowing for efficient use of your budget.
No Risk
Minimize the risks associated with staff turnover by ensuring uninterrupted access to highly specialized knowledge and expertise, bringing stability and consistent quality to your project.
Team Control
Maintain full control over the selection of your team members and the management of your project, ensuring that your project's specific needs are met and that your objectives are achieved in a manner that is precise and tailored to your vision.
Do you need a team of Django developers for your project?
Outsource
Django Developer Teams
in USA
Hire
Teams Of Qualified Django Developers
All members of our Django developer teams have the following skills:
Django proficiency. Solid experience developing with the Django framework, understanding its structure, models, views and templates.
Advanced Python. Proficiency in the Python language, used by Django, with knowledge of best practices and efficiency in writing code.
Database Management. Knowledge in database design and administration, using Django ORM and optimizing queries.
Communication Skills. Ability to communicate technical ideas clearly with both the team and clients, if needed.
Teamwork and Agile Methodologies. Ability to collaborate effectively in multidisciplinary teams, applying agile methodologies such as Scrum or Kanban.
Problem Solving and Creativity. Aptitude to tackle technical challenges and find innovative solutions in development and optimization.
Hire the best teams of Django software developers for your project.
Our dedicated Django development team recruitment service focuses on bringing together highly skilled professionals, including Django developers, software engineers, and relational database experts. With expertise in Django, Python, and deep knowledge in the Django REST framework ecosystem, our team can create a wide range of solutions, from highly scalable web applications to robust and secure APIs. Django is strongly related to web development and its framework integrates with modern technologies such as JavaScript, HTML5, and CSS3, ensuring the creation of advanced user interfaces. The benefits of adopting Django and a dedicated development team include the ability to accelerate development time, reduce operational costs, and ensure the delivery of high-quality projects in an efficient manner. In short, we offer a complete and effective solution to take your Django software development project to the next level.
Looking for a reliable and qualified team of Django developers for your project?
Choose us as your
Django Development Teams Provider Company
in USA
USA Django Developer Team Outsourcing Company
We are a leading software development company, based in USA, which has established itself as a reference in the specialization of hiring dedicated Django development teams. Our meticulous selection process allows us to bring together the most qualified Django developers, fusing exceptional technical skills with a passion for innovation. We value synergy and long-term relationships with our clients, collaborating closely to translate their vision into successful, high-impact projects. Our goal is to exceed expectations, providing customized solutions that reflect our dedication to excellence and client satisfaction.
We build high-performing teams of Django developers for the world's leading brands.
If you are thinking of hiring dedicated teams of Django developers, look no further:
Siblings Software is ready to help!
Click on the link below if you would like to hire a team of Django developers in Argentina or Latin America.