Hire Django Development Team in USA
---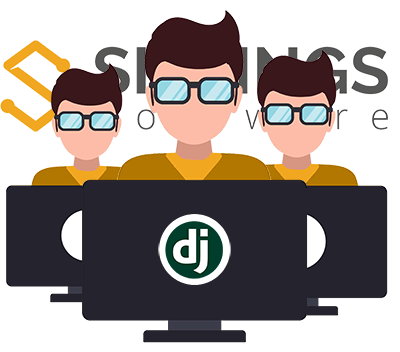 How to
Hire a Dedicated Django Developer Team
Hiring a team of Django software developers through Siblings Software is quick and easy.
1
Tell us about yourself
Tell us about your goals, the structure of your team and the specific requests and requirements you have.
2
Select your team
Get to know the profiles of the pre-selected developers for your project in a matter of days. Have an interview with them and make the final hiring decision.
3
Get To Work
Enjoy your new fully integrated team of Django developers working from day one.
Do you want to hire a dedicated team of Django developers? Siblings Software is at your service.
Benefits of
Outsourcing To A Team Of Django Developers
Cost Efficiency
You will have access to an qualified team of developers specialized in Django while enjoying cost savings, with no legal or tax obligations.
No Risk
Established outsourcing companies, such as Siblings Software, work with trusted professionals who have passed numerous hiring tests and have proven their expertise.
Team Control
You set the goals and maintain control of 100% of your dedicated Django development team.
Do you need a team of Django developers for your project?
Outsource
Django Developer Teams
in USA
Outsource
Teams Of Qualified Django Developers
All members of our Django developer teams have the following qualities:
Proven experience in software development with Django.
Use of popular frameworks, such as Django, Flask, CherryPy, Tornado or Pyramid.
Solid knowledge of Object Relational Mappers.
Good understanding of multi-process architecture.
Solid knowledge of agile methodologies.
Excellent written and oral communications skills in English.
Hire the best teams of Django software developers for your project.
Looking for a reliable and qualified team of Django developers for your project? .
Outsourcing a dedicated team of Django developers
Choose us as your
Django Developer Team Outsourcing Company
in USA
USA Django Developer Team Outsourcing Company
We're an top-notch Django developer team outsourcing company in USA, specialized in providing services of hiring dedicated teams of software developers. We focus on providing talented and highly qualified human resources, seeking to generate long term relationships with our clients.
We build high-performing teams of Django developers for the world's leading brands.
If you're considering outsourcing dedicated teams of Django developers, look no further:
Siblings Software is ready to help!