Hire Ionic Developers in USA
---
We are a Ionic staff augmentation company based in USA (Miami, Florida). Our main goal is to help our clients to hire the best Ionic developers to boost their projects.
We help companies in the US, Canada, UK, Europe and around the world find the right Ionic experts for development outsourcing.
If you're considering outsourcing Ionic developers, look no further:
Siblings Software is ready to help!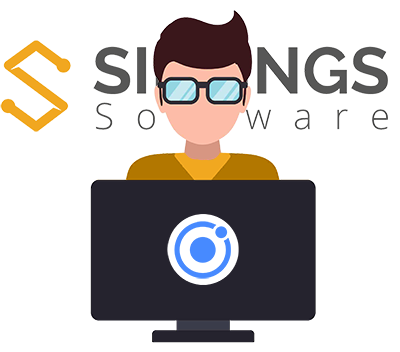 How to
Hire Ionic Developers through Siblings Software
Hiring an Ionic Framework developer through Siblings Software is very simple and fast.
1
Tell us
about yourself
Tell us about your goals, your project needs and requirements.
2
Select your
Ionic developer
We will select the profiles that best fit your project in a matter of days. Then, you will be able to choose your preferred one.
3
Integrate it into your project
Your new Ionic expert developer will join your team and start working from day one.
We are an Ionic development outsourcing company specialising in staff augmentation services.
Siblings Software
Skilled Ionic Developers
We have the talented Ionic developer you need.
All the Ionic developers in our team have the following skills:
Knowledge of user interface technologies, including HTML5, CSS, CSS3 and JavaScript.
Familiarity with Typescript, Angular JS, Cordova and Node JS.
Strong knowledge of SQLite, MySQL, Firebase or similar databases.
If you decide to hire an Ionic developer, let us help you select the best one for your team.
Hire
Ionic Developers
in USA
Ionic Staff Augmentation Services
Hire the best Ionic developers for your project.
Ionic


App Developers
Ionic


Web App Developers
Outsource an Ionic Developer
Onshore, Nearshore and Offshore Ionic Developers
At Siblings Software, we offer professional onshore, nearshore and offshore Ionic development services, giving you effective, intelligent and innovative talent outsourcing solutions.
Choose us as your
Ionic Staff Augmentation Company
in USA
Frequently Asked Questions
An Ionic developer is a professional software developer specialized in creating and maintaining cross-platform mobile apps from a single code base in React, Vue or Angular using Ionic.
Hiring a qualified Ionic developer, according to the needs and budget for a specific project, is not an easy task. It is necessary to know the required skills and experience level, as well as to have a database of potential candidates.
If you need to expand your staff by hiring an Ionic developer, we can help you. Please contact us.
The cost of hiring an Ionic developer depends on several factors, such as the developer's expertise and the complexity of the work to be done.
Tell us the objectives, needs and budget of your project and we will help you find the best talent for you.