Hire Ionic Developers in USA
---
We are an Ionic staff augmentation company based in USA, and our reputation in the industry is a testament to our track record, reliability and dependability.
Over the years, we have established strong relationships with companies looking to strengthen their development teams with experienced Ionic talent. Our priority is quality, so we carefully select each developer to ensure they are perfectly qualified and aligned with our clients' projects.
When you join us, you not only get a team of exceptional developers, but also peace of mind knowing that we are committed to your long-term success. Relying on our expertise is a smart move to take your Ionic software development to the next level.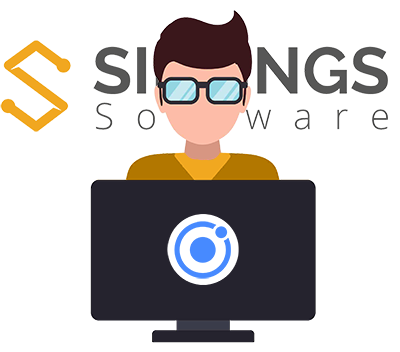 How to
Hire Ionic Developers through Siblings Software
Hiring an Ionic Framework developer through Siblings Software is very simple and fast.
1
Tell us
about yourself
Start by sharing your specific needs and requirements. We want to understand your project, your vision and your goals. This information will help us select the right Ionic developer for your team.
2
Select your
Ionic developer
Based on your requirements, our team of expert recruiters will identify and present highly qualified candidates. You will have the opportunity to review their profiles and choose the developer that best fits your needs and team culture.
3
Integrate it into your project
Once you have selected the ideal Ionic developer, we will seamlessly incorporate them into your project. Our goal is to ensure a smooth and efficient integration so that the new member of your team can start contributing immediately, bringing their experience in Ionic software development.
We are an Ionic development outsourcing company specialising in staff augmentation services.
Siblings Software
Skilled Ionic Developers
We have the talented Ionic developer you need.
All the Ionic developers in our team have the following skills:
Proficiency in Ionic Framework. In-depth knowledge of this framework, including Ionic 4 or higher, as well as its components, features and policies.
HTML5, CSS3 and JavaScript. Expertise in these technologies, fundamental in the creation of mobile applications with Ionic, knowing how to use them to create attractive and functional user interfaces.
Experience in Angular. Ability to create efficient Angular components and understanding of their interaction with Ionic.
Fluent communication. Ability to communicate effectively to collaborate with colleagues and clients.
Teamwork. Ability to work effectively in teams, collaborating with designers, other developers and multidisciplinary teams.
Knowledge of agile methodologies. Familiarity with agile methodologies, such as Scrum or Kanban, to contribute more effectively to agile projects, adapting to changes and providing value on an ongoing basis.
If you decide to hire an Ionic developer, let us help you select the best one for your team.
Hire
Ionic Developers
in USA
Ionic Staff Augmentation Services
Hire the best Ionic developers for your project.
Our staff augmentation company specializes in empowering development teams with highly skilled Ionic talent. We understand that Ionic technology is essential in the creation of hybrid mobile and web applications, so we offer a range of specialized technical roles, such as Ionic developers, Angular experts, and UI designers focused on this platform. By collaborating with us, clients can leverage these professionals to accelerate their projects and stay ahead of the latest trends in mobile development. The benefits of hiring through our staff augmentation firm include rapid availability of talent, flexibility to scale teams according to project needs, and the peace of mind of working with carefully selected specialists who will bring their specific expertise and knowledge to bear on the success of the project.
Ionic


App Developers
Ionic


Web App Developers
Choose us as your
Ionic Staff Augmentation Company
in USA
USA Ionic Staff Augmentation Company
At Siblings Software, an USA-based company, we have cultivated an exceptional track record in the field of staff augmentation specializing in Ionic. Our commitment to reliability and dependability is second to none, and we consider these qualities to be the foundation of all the long-term relationships we build with our valued clients. We believe in creating strong, long-lasting partnerships that are not only for short-term success, but also for long-term, sustainable and profitable success. To achieve this, we have perfected a meticulous Ionic developer selection process, ensuring that each member of our team is highly qualified and aligned with our clients' vision. By choosing Siblings Software as your Ionic developer recruitment partner, you are opting for the quality, experience and confidence that only a market-leading company can offer. We are ready to propel your project to success.
Click on the following link if you are looking to hire an Ionic developer in Argentina or Latin America.
Frequently Asked Questions
An Ionic developer is a professional who specializes in using the Ionic framework, a popular open-source framework for building cross-platform mobile and web applications. Ionic developers are skilled in creating mobile apps that can run on multiple platforms, including iOS, Android, and web browsers, using a single codebase. They have expertise in technologies like Angular, TypeScript, HTML, and CSS, which are essential for Ionic app development. Ionic developers design and build user interfaces, implement features, and ensure the overall functionality and performance of Ionic applications.
Hiring the services of a competent Ionic developer, tailored to the requirements and budget of a particular project, can be an arduous task. It involves having a thorough understanding of the essential skills and level of experience required, along with the creation of a repository of candidates.
If you need to expand your staff by hiring an Ionic developer, we can help you. Please contact us.
The cost associated with hiring an Ionic developer varies significantly, influenced by factors such as the skill level of the developer and the complexity of the tasks to be performed. It is critical to take these aspects into account when budgeting for the project, as they can greatly affect the overall cost and quality of the development work.
Tell us the objectives, needs and budget of your project and we will help you find the best talent for you.