Hire Gatsby Developers in USA
---
At our staff augmentation company in Gatsby, located in USA, we are proud to be an industry leader, providing exceptional, highly experienced Gatsby developer recruitment services to companies looking to strengthen their web development teams.
Our solid track record is based on the trust placed in us by numerous renowned organizations. We stand out for our reliability and dedication to delivering high quality solutions. Each developer that integrates our team is carefully selected, not only for their technical expertise at Gatsby, but also for their commitment to excellence and adaptability.
We believe that quality is the foundation for success, and we are committed to providing the right resources to help companies achieve their development goals effectively and efficiently.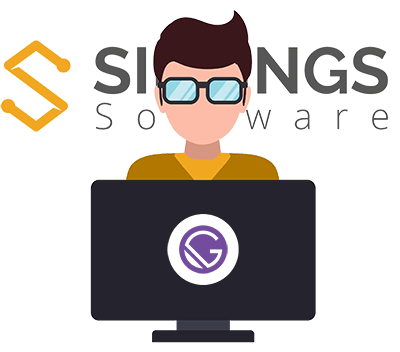 How to
Hire Gatsby Developers through Siblings Software
Hiring a Gatsby developer through Siblings Software is very simple and fast.
1
Tell us
about yourself
At this early stage, we would like to know the details of your company and the specific objectives of your Gatsby project. Sharing information about your vision and requirements will help us tailor our sourcing solutions to your needs.
2
Select your
Gatsby developer
Once we understand your requirements, we leverage our experience to identify the most suitable Gatsby developer from our talented pool of candidates. Our selection is based on technical skills and experience, ensuring a perfect fit for your project.
3
Integrate it into your project
After selecting the right Gatsby developer, we facilitate a smooth integration into your team and project. Our approach includes efficient onboarding, effective communication and seamless collaboration to successfully achieve project goals.
We are an Gatsby development outsourcing company specialising in staff augmentation services.
Siblings Software
Skilled Gatsby Developers
We have the talented Gatsby developer you need.
All the Gatsby developers in our team have the following skills:
Gatsby basics and advanced concepts.
Strong knowledge of HTML5, CSS3 and JavaScript.
Experience in other front-end frameworks such as Next, Redux and Bootstrap.
Knowledge of React libraries such as React Hook Form or React Router.
Practical experience in testing frameworks and libraries such as Jest or Enzyme.
If you decide to hire a Gatsby developer, let us help you select the best one for your team.
Hire
Gatsby Developers
in USA
Gatsby Staff Augmentation Services
Hire the best Gatsby developers for your project.
Our staff augmentation firm specializes in offering a highly specialized staff augmentation service in the Gatsby domain. We make available to companies an exclusive pool of talent, including frontend developers and web designers, who have mastered this static website building technology to perfection. Our Gatsby experts excel at creating ultra-fast web applications, SEO optimization, and headless CMS implementation. By relying on our staff augmentation firm, organizations can reap the benefits of immediate access to highly qualified professionals without the search and selection process, reducing costs and time, and ensuring excellence in the development of cutting-edge Gatsby projects.
Choose us as your
Gatsby Staff Augmentation Company
in USA

USA Gatsby Staff Augmentation Company
At Siblings Software, we are an Argentine company specialized in providing staff augmentation services in the world of Gatsby software development. We are proud of our solid track record and our unwavering commitment to seriousness and reliability in every project we undertake. We strongly believe in the value of establishing long-term relationships with our clients, as this allows us to thoroughly understand their needs and work together effectively to achieve success and profitability in every project. Our approach is based on the quality of the developers we provide; each of them is carefully selected through a rigorous screening process to ensure that they meet the highest standards of technical competence. By choosing Siblings Software as your staff augmentation partner, not only will you get the best developers at Gatsby, but you will also benefit from our unwavering commitment to excellence and the success of your project.
Click on the following link if you are looking to hire a Gatsby developer in Argentina or Latin America.
Frequently Asked Questions
A Gatsby developer is a professional specialized in the use of Gatsby, a React-based open source framework for building static websites and high-performance web applications. These developers are experts in building and optimizing fast and efficient websites, taking advantage of static content generation and data management. They are experienced in using GraphQL and integrating diverse data sources to create engaging and highly functional web experiences.
To find and hire a highly qualified Gatsby developer, it is essential to conduct a strategic search. This involves clearly defining the technical skills needed for your project and then exploring talent sources, such as job boards, professional networks and Gatsby-focused online communities. When evaluating candidates, pay attention to their previous experience on similar projects and consider conducting technical interviews to assess their specific Gatsby knowledge. In addition, collaborating with recruitment agencies specializing in web technology can be an excellent option for accessing a selection of highly qualified Gatsby candidates..
If you need to expand your staff by hiring a Gatsby developer, we can help you. Please contact us.
The cost of hiring a Gatsby developer varies significantly and is influenced by a number of key variables. Factors such as the developer's geographic location, level of experience and the complexity of the project play an important role in determining costs. Carefully evaluating these elements is essential to establishing a budget that is tailored to the specific needs and objectives of your project.
Tell us the objectives, needs and budget of your project and we will help you find the best talent for you.