Hire .Net Developers in USA
---
Based in USA, we are a premier .Net staff augmentation company with a single mission: to provide top-notch .NET developers to enhance your software projects. Rooted in an unwavering devotion to quality, our process involves the exhaustive selection of each professional, encompassing their technical proficiency as well as their seamless integration and communication skills.
Beyond transitional solutions, we focus on fostering lasting collaborations, ensuring that your software development initiatives thrive with the strong support of our extraordinary talent at your side.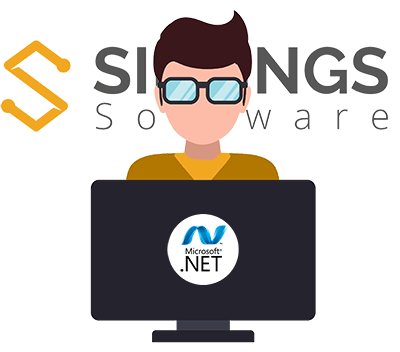 How to
Hire .Net Developers through Siblings Software
Hiring a .Net developer through Siblings Software is very simple and fast.
At Siblings Software USA, we don't just offer .Net developers; we offer a tailored hiring process that is designed to enhance your projects and build lasting partnerships.
1
Tell us
about yourself
Tell us about yourself and your unique project requirements. At Siblings Software we believe in customized solutions. Share your project goals, technical needs and company culture. Our team of experts will leverage this information to identify the perfect .Net developer that aligns not only with your technical needs, but also with your company's values.
2
Select your
.Net developer
With your ideas in mind, we meticulously screen and evaluate our pool of exceptional .Net developers to find the ideal candidate. Our rigorous screening process ensures that you are presented with candidates whose technical knowledge, experience and communication skills are a perfect fit for your project. You will have the opportunity to review profiles and even conduct interviews to make an informed decision.
3
Integrate it into your project
Once you've chosen the perfect option, it's time for a seamless integration. Our selected .Net developer will become a synergistic extension of your team, collaborating seamlessly with your existing staff. We provide the resources, tools and support to ensure a frictionless onboarding process. From day one, your new developer will hit the ground running and contribute to the success and growth of your project.
We are an .Net development outsourcing company specialising in staff augmentation services.
Siblings Software
Skilled .Net Developers
We have the talented .Net developer you need.
All the .Net developers in our team have the following skills:
Proficiency in programming languages, such as C#, ASP.NET, F# or VB.NET.
Familiarity with client-side development technology, such as HTML, CSS, JavaScript and Bootstrap.
Understanding of database usage, such as SQL Server, NoSQL or Oracle.
Strong understanding of the structure and logic of Object-Oriented programming.
If you decide to hire a .Net developer, let us help you select the best one for your team.
Hire
.Net Developers
in USA
.Net Staff Augmentation Services
Hire the best .Net developers for your project.
Microsoft .NET


Full-Stack Developers
Microsoft .NET


Front-End Developers
Microsoft .NET


Back-End Developers
Microsoft .NET


App Developers
Microsoft .NET


Web App Developers
Microsoft .NET


API Developers
Choose us as your
.Net Staff Augmentation Company
in USA

USA .Net Staff Augmentation Company
Elevate your projects with the best of USA: We are experts in staff augmentation for .Net developers. At Siblings Software, our select team of top-notch developers is ready to integrate seamlessly with your workforce, becoming a true extension of your team.
We're not just about code: we're problem solvers, collaborators and partners committed to your long-term success. Our commitment to cultivating lasting business relationships means we are dedicated to growing with you.
Experience excellence in every line of code and discover the power of lasting partnerships with Siblings Software USA.
Click on the following link if you are looking to hire a .NET developer in Argentina OR Latam.
Frequently Asked Questions
A .NET developer is a skilled software professional specializing in the design, creation and maintenance of applications using the Microsoft .NET framework. They use various programming languages such as C# or VB.NET to create robust and scalable solutions for web, desktop, mobile and cloud platforms. These developers work on a wide range of projects, from simple applications to complex enterprise solutions, leveraging the framework's tools and libraries to streamline development processes and deliver high-quality software products.
Hiring the services of a competent .NET developer, tailored to the requirements of a particular project, proves to be a multifaceted task. To achieve this, it is necessary to know precisely the essential skills and competency levels required, as well as an extensive database of potential candidates.
If you need to expand your staff by hiring a .NET developer, we can help you. Contact us.
The cost of hiring a .NET developer depends on a number of factors, including developer competency, specific project requirements, preferred language, and geographic location. The complexities of the developer's skill set and the unique characteristics of the project significantly influence the total cost.
Tell us your goals, needs and resources and we will help you find the best talent for you.